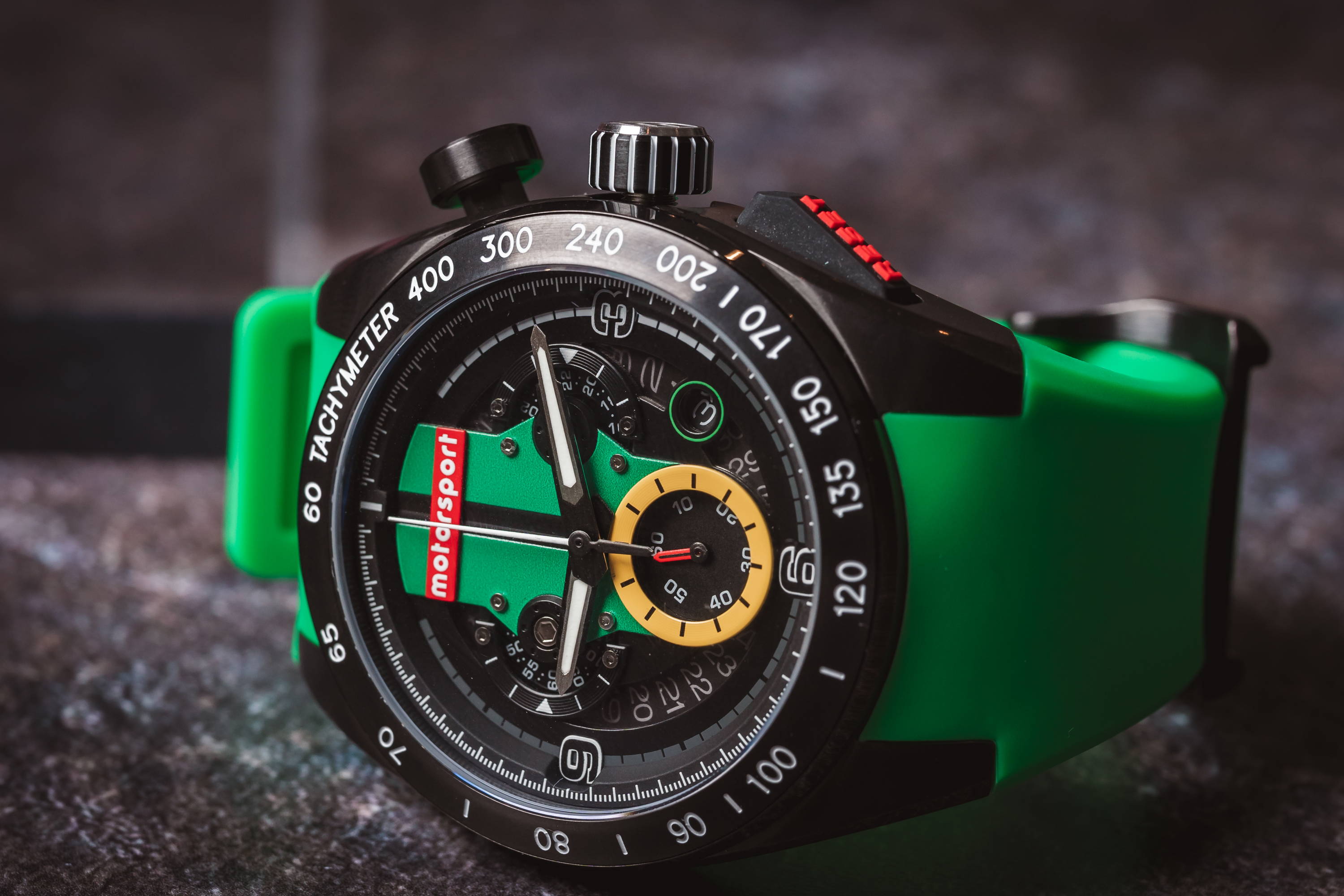 Frequently Asked Questions
Have a Question? We have the answers!
Do I need to register to make a purchase?
No, you do not need to register at Motorsportwatches.com. Users can check out as a 'Guest' but you will need to provide valid shipping and billing addresses (if different).
We recommend that you do register as it makes it easier next time you purchase as you do not have to re-enter your information. It makes it easy to view your order history and better follow the progress of your order. You will also be eligible to receive updated information, news and offers.
Does Motorsport Watches have any physical retail stores?
We want our watches to be accessible to the entire world and take pride in connecting with our fans. That's why we primarily sell our gorgeous timepieces on our website and currently do not offer any retailers.
Are the products on your website authentic?
Yes, every product we represent on our site is an official licensed product.
What's the difference between an automatic and quartz at Motorsport watches?
The difference between automatic and quartz is the battery.  
Quartz is a battery powered movement that uses an electrical charge to power the watch.

It is more accurate and more popular than mechanical movements.
Mechanical movements are powered by a tightly wound hairspring that tightens when wound and slowly releases over time, causing the watch parts to rotate and power the watch.
Quartz and mechanical are two of the most popular types of watch movements.
Where are Motorsport Watches Sold?
We primarily sell our unique timepieces at our website. We value our connection with every watch F1 fan. We have a robust customer service team 24/7, 365 days a year to serve you! We don't use bots, it's actual team members willing to offer you quality service. 
What type of payments do you accept?
We accept all major credit cards and different payment option on our website. Please see list below.
Visa

American Express

PayPal

Google checkout

Apple Pay
 
We designed a hassle-free checkout process that is intuitive to avoid any confusion.
How can I check my order status?
How can I modify an order?
Do you offer coupon codes?
We are well known for have last minute offers. Usually, we pushed those promotions on our social media. At this right moment we don't have active coupon codes.
To get access to future coupon codes and Giorgio Piola rewards sign up to our Newsletter.
We typically ship all our orders' same business day unless there is a national holiday.
We have 2 shipping options:
Standard shipping option takes about 3-5 business days.
Express Shipping takes 1-3 business days.
Please click here to view our full Shipping Policy.
Does Motorsport Watches ship Internationally?
Of course we do! Please bear in mind that when shipping internationally, duties and taxes expenses are borne by the customer.
What carriers do you use for shipping?
For US/Americas orders we use both Fedex and UPS Ground and Express, with several delivery options. For the UK/Europe, and the Eastern Hemisphere we use DHL Express.
How will I know you received my order, and that it has shipped?
We will approve your order and send you tracking information via email to the email address you used to place your order. Please note: Tracking may take 24 to 48 hours to update. We appreciate your patience.
What should I do if my package does not arrive?
If your package has not arrived within the expected delivery time frame (per the shipping option selected upon placing your order), please contact us and we will immediately assist you!
Yes! We accept returns or exchanges within 90 days of delivery.
May I exchange or return any watch I purchase here?
Not sure if you should place the order? No worries! As long as your watch is in exactly the same condition in which you received it, we'll exchange it or fully refund you, no questions asked. If you'd like to return your watch and you're in the US, we'll send you a free shipping label.
For more information on our return policy, please click here. 
Is any watch I purchase here automatically covered by your one year international warranty?
If you purchased your timepiece through the official Giorgio Piola Store, you will automatically activate your one year warranty.
Our promise to you is to deliver a quality timepiece created in the tradition of Swiss watchmaking and craftsmanship. Our Quality Assurance team ensures that every component of every timepiece undergoes rigorous testing for all the criteria we've established. Our watches are covered by a one year warranty from the date of original purchase against ALL manufacturer's defects.
What's covered? 
Stem and crown repair

Case and bezel repair
Damaged crystal

Scratched, ripped and gouged watch straps (leather, rubber, metal)

Water damage (water-resistant products)

Damaged watch-band clasps and links

Cosmetic scratches and dents on silver stainless steel watch bands
One strap replacement.

Coverage begins Day 1 of delivery
Full repair or replacement

24/7 Customer Support
Is my credit card information secure?
Completely. We take security very seriously and it is one of our absolute top priorities here at GiorgioPiola. All of your data is SSL encrypted. We do not store or save any of your credit card information on our servers.
How do I access the manual to learn how to operate and maintain my watch or accessory?
You can learn more about how to operate your watch by reading the booklet that comes with all our watches.
How can I maximize the battery life on my Motorsport Watches quartz chronograph?
To maximize your battery life you should not leave the chrono function permanently on. Click the rest to turn it off. Leaving a mechanical chrono running will use up the battery
How should I clean my Motorsport watch?
Keep your Giorgio Piola clean following these simple rules:
Use mild cleaning agents, soft brushes, microfiber or cotton cloths, and no running water.

Special note for saltwater divers - clean off saltwater as soon as possible to limit corrosion potential.
What is the best way to preserve my Motorsport watch?
It is good practice to keep your Motorsport watches away from strong magnetic sources. While ill-effects aren't a certainty, it is a good idea to avoid such exposure.  
Your Motorsport timepiece is rugged, not indestructible. Hard impacts, contact with abrasive materials, exposure to solvents, and so forth can damage your watch's case finish, sapphire crystal, strap/bracelet, and movement.